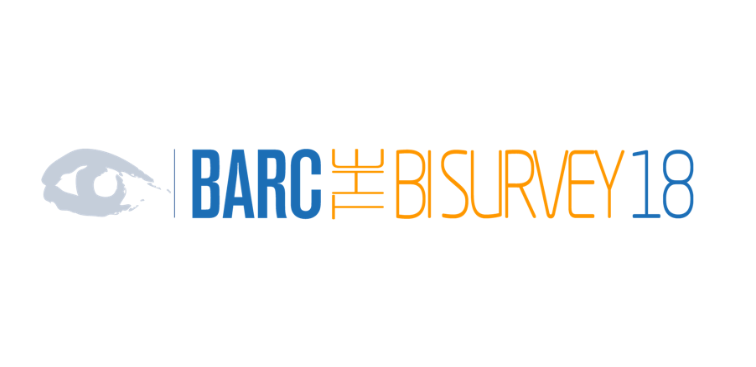 Yellowfin Receives Top Rankings in World's Largest Business Intelligence Survey
For the fifth consecutive year, Yellowfin has achieved outstanding results for Operational BI
Ketchum, Idaho, Nov. 16, 2018 – Yellowfin BI, the enterprise analytics company that gets customers to the why faster, today announced that The BI Survey 18 by BARC, ranked Yellowfin BI first in both Operational BI for data discovery-focused products and Embedded BI for self-service-focused products. Yellowfin was also recognized as a leader in 21 additional categories, including innovation, product satisfaction, ease of use, price-to-value, data volume, and location intelligence.
Based on findings from the largest and most comprehensive survey of business intelligence end users, The BI Survey 18 offers an unsurpassed level of user feedback. Yellowfin prides itself on solving real business problems with sophisticated and easy-to-use products that access live data.
"Rather than blindly following market hype, Yellowfin keeps a close eye on current trends and works to provide new and well-thought-out innovations and features for its users," said The BI Survey 18.
"We are thrilled to be recognized as a leader among the world's top business and analytics solutions," said Glen Rabie, CEO of Yellowfin. "At Yellowfin, we constantly strive to solve real business problems through a sophisticated analytics suite that meets the needs of business users, analysts and IT. The BI Survey 18 shows that we achieve outstanding performance in Operational and Embedded BI, and we are at the forefront of innovation in the market, all while maintaining a suite that people trust."
To allow fair and useful comparisons of products, The BI Survey 18 uses peer groups to help identify competing products. Yellowfin's analytics suite was a leader in numerous categories in four of the peer groups, including a top position in the data-discovery products group for Operation BI. Yellowfin was built with the purpose of being embedded into other applications. This focus earned Yellowfin the lead position for Embedded BI in three of its peer groups and a top ranking in the self-service reporting-focused peer group.
Continued Leadership and Innovation
Yellowfin maintains a track record of being first to market with innovative features that help analysts and businesses achieve data insights faster and more easily.
"The solution was designed as an embeddable web-based application to serve these [operational] needs," said The BI Survey 18. "Yellowfin offers an integrated metadata layer, which connects to data sources and offers a single point of access to data. Data can be queried directly without replication, which works well in operational scenarios where data does not necessarily have to be transferred."
John Santaferraro, Research Director at EMA, confirmed Yellowfin's leadership position as an innovator saying, "EMA considers Yellowfin to be a leader in the use of AI, machine learning, contextual storytelling, and social communication for business intelligence."
– END –
About BARC and The BI Survey
The Business Application Research Center (BARC) is an enterprise software analyst and consulting firm with a focus on Analytics/Business Intelligence (BI), Data Management, Enterprise Content Management (ECM), Customer Relationship Management (CRM) and Enterprise Resource Planning (ERP). For over twenty years, BARC analysts have combined market, product and implementation expertise to advise companies and evaluate BI, Data Management, ECM, CRM and ERP products. A long-running program of market analysis and product comparison studies forms the basis of BARC's comprehensive knowledge of all the leading software vendors and products, as well as the latest market developments and trends. Along with analysts CXP and PAC, BARC forms part of the CXP Group – the leading European group of analysts for enterprise software and IT services with staff in eight countries.
The BI Survey 18 was conducted by BARC from March 2018 to June 2018. Altogether, 3,045 respondents worldwide answered a series of questions about their BI software. The survey offers a comparison of 36 leading business intelligence tools across 30 key performance indicators including business value, customer satisfaction, customer experience and competitiveness. For more information, go to www.bi-survey.com."
About Yellowfin
Most BI vendors can tell customers what happened. Yellowfin tells them why it happened. Founded in 2003 in response to the complexity and costs associated with implementing and using traditional BI tools, Yellowfin delivers the only enterprise analytics software suite that offers industry-leading automated analysis, storytelling, and collaboration. Yellowfin ranked among the Top 5 analytics platforms across all 15 Gartner Critical Capabilities for Analytics and Business Intelligence Platforms, 2018. More than 27,000 organizations, and more than three million end-users across 75 different countries use Yellowfin every day to get to the why faster.
For more information, visit yellowfin.co.jp
Contact:
Sherri Walkenhorst
Connect Marketing
801-373-7888
sherriw@connectmarketing.com